Halycon Behavioral Health may cover rehab.
Looking to speak to someone right now?
Get the Help You Need Right Now
Re-inventing the path to recovery
California Recovery Center is changing the way we approach treating substance abuse and mental illness. Whether you are thinking about giving up alcohol or at the end of the road in addiction, we are here to help. Our program combines the best of traditional substance abuse treatment mixed with modern therapies that create a truly unique experience for each and every client at California Recovery Center.
Real Treatment by People Who Care
Whether you call us, fill out a form, or speak to our live digital admissions assistant, California Recovery Center is here to help day & night.
Our admissions team will verify your coverage in order to provide the lowest out-of-pocket costs when seeking treatment for addiction at CRC.
Once your insurance is verified, your journey to lasting recovery begins. Our admissions team will help answer any questions you have 24/7.
Free Consultation for Halcyon Behavioral Health Carriers!
We work with Halcyon Behavioral Health insurance policies to provide quality, evidence-based treatment for substance abuse at our Northern California location.
Fill out the form below to find out if your Halcyon benefits cover the cost of treatment at our program.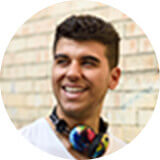 "Outstanding team of professionals, In depth counseling and support. Highly recommended!"